The Monthly Dose of Testing Land - June 2023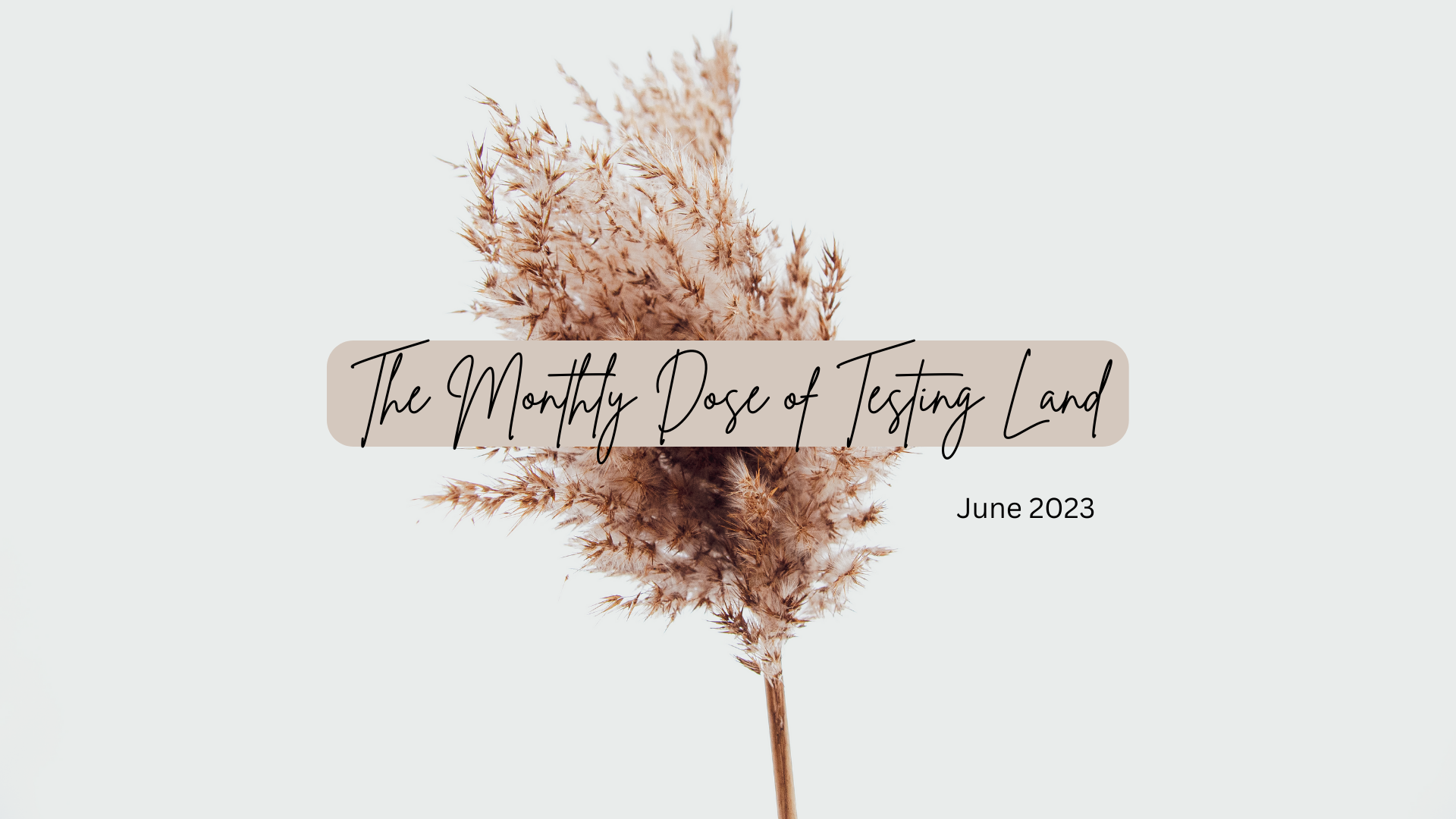 💡
Subscribe to get my Monthly Dose of Testing Land ⬇️️
Here is your Monthly Dose of Testing Land, a list of what I'm exploring, mulling, and experiencing each month.
Podcast I'm listening to
I'm constantly listening to the Leading Women in Tech Podcast, and in June, an episode caught my attention on how to give proper feedback to foster growth and success. I loved every piece of it because I often think about how hard it is to provide proper and valuable feedback, be it positive, constructive, or corrective feedback.
Filipino recipe I tried at home
In the last year or so I became obsessed with Asian cuisine, be them noodles, sushi, tofu recipes, you name it, and recently we have been to my in-laws, in a city in the north of Transylvania, where there is a great Filipino restaurant (I'm adding the link to their website for my Romanian subscribers, and by the way, there are very few Filipino restaurants in Romania). I ordered a Filipino sticky rice cake, called Biko, which was ah-mazing, by the way, and the owner of the restaurant was kind enough to give me some tips on how can I prepare it myself at home.
So, you only need sticky rice (you can find it also as glutinous rice), coconut milk, and brown sugar. That's it. All you have to do is to simmer the sticky rice until it is almost done (not completely done), and meanwhile, combine the brown sugar with the coconut milk, and cook until it thickly coats the back of a spoon (up to 25 minutes). Then add the sticky rice, gently toss the sauce, and put it into the oven for up to 15 minutes. You can thank me later!
Netflix series I'm watching
Our Great National Parks narrated by Barack Obama. I haven't spoken much about this, but in the last few months, I've started to work for the technological part of the National Geographic Society, which is different than the TV channel or the magazine that we use to know, and is more focused on creating a space for explorers and help them with their researches and support the new changemakers. So, the Our Great National Parks was something I couldn't miss on Netflix. This is a stunning docuseries showing the planet's most amazing landscapes and ecosystems. If you were to ask me, I wouldn't miss the one about Monterey Bay National Marine Sanctuary.
Airalo. The tech that impressed me
In June I traveled overseas, I went to the USA, and usually when traveling I opt for roaming, although with every travel I was constantly worried and used limited mobile data because of the bill I would receive when getting back home. This time, when traveling to the USA, the plan was to buy a local SIM card from the airport and have a new phone number to be able to communicate with family and friends.
But thanks to my tech-savvy husband, we used Airalo this time. Basically, we got their app, got an eSIM, and had a local data provider internet working within minutes. We installed the eSIM before we left on our trip, so we got data immediately when we landed at our destination. Just for you to imagine the costs, I paid 16$ for a package with 5GB of data, available for 30 days. I spent 8 days abroad, and I still have 1.82GB left, and I had no restrictions in using mobile data. Insane, right?
The motto of the month