The Monthly Dose of Testing Land - September 2023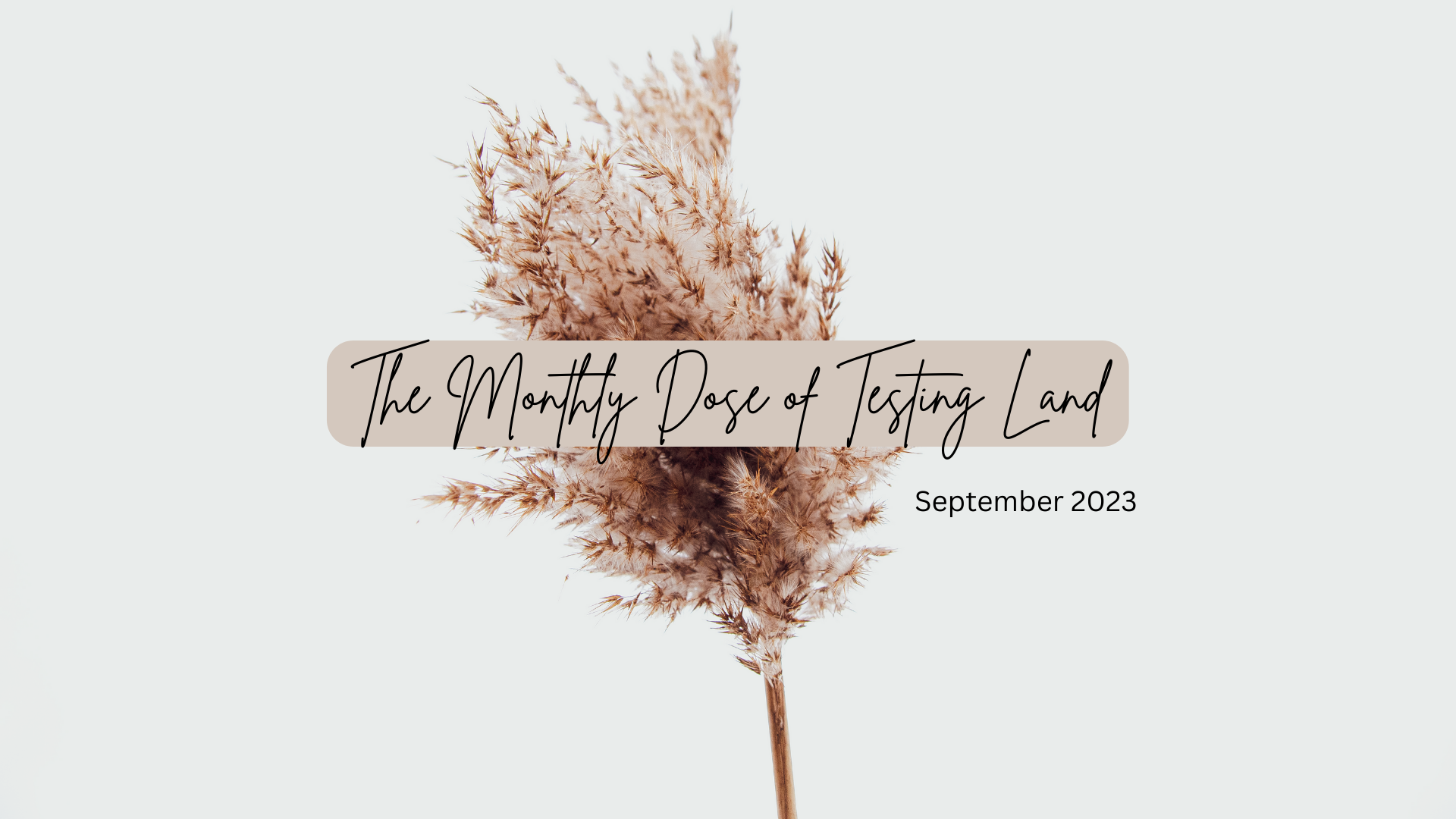 💡
Subscribe to my Monthly Dose of Testing Land ⬇️️‌
Here is your Monthly Dose of Testing Land, a list of what I'm exploring, mulling, and experiencing each month.
What I am reading
Born a Crime: Stories from a South African Childhood by comedian Trevor Noah is an autobiography that is one crazy ride about childhood and growing up during apartheid in South Africa. I read almost half of it, and there's a quote that stays with me saying that "Racism is not logical".
What I watched
Live to 100: Secrets of the Blue Zones on Netflix tells the story of Dan Buettner who's traveling around the world to discover five unique communities where people live extraordinarily long and vibrant lives.
Dan Buettner, Blue Zones founder and National Geographic explorer, identified the five original blue zones – the places in the world with the healthiest, longest-living populations, including Okinawa (Japan), Sardinia (Italy), Nicoya (Costa Rica), Ikaria (Greece), and Loma Linda (California). It's very interesting to see what the people from these regions have in common. It stood with me the image of a man from Nicoya 100 years old riding a horse like a young man.
Cool Tech
';--have I been pwned? to help you check if your email address is in a data breach. Amazing, right? I introduced my personal email address and checked if my email was in a data breach recently, and surprise, surprise, it was in 12 (!) data breaches in the past years.
(A "breach" is an incident where data has been unintentionally exposed to the public.)
Recipe I used over and over again in the summer
If you're a fan of Mediterranean cuisine, you'll love tzatziki - a refreshing Greek dip made with yogurt, cucumber, garlic, olive oil, and herbs. I recently returned from a summer holiday in Zakynthos, Greece, where I indulged in fish, souvlaki, seafood, pita, and of course, tzatziki. I enjoyed it so much that I brought home a tzatziki spice mix from a local market to recreate that unique taste in my own kitchen. Want to make your own tzatziki? Here's my recipe:
🥒 grate and squeeze the water out of a cucumber
🧄 mix the squeezed cucumber with yogurt (I use 10% fat yogurt), 1 tablespoon of lemon juice, 1 garlic, olive oil, salt, and tzatziki spice mix (if you don't have the spice mix, use salt and pepper instead).
Passion about interior design?
Whenever I want to admire calming, peaceful spaces and get clever interior design tips, my go-to book is For the Love of White: The White and Neutral Home.